Flexographic Label Printing has amazing benefits...
Perfect for medium to large quantity custom orders!
High Definition Digital Printing Plates = You will love your High Quality Labels!
You have a huge variety of printing options available, with up to 12 colors!
Enjoy some of the fastest deliveries in the industry, using high speed presses!
Flexographic Printing is perfect for medium to large run orders
If you have a label order that is larger than 10,000 - 15,000 per item, the most cost effective option is most likely Flexographic "traditional" label printing, vs Digital printing. Why? is probably the question swirling in your head right now. We'll explain...
When it comes to any manufacturing process, the speed at which equipment operates has an impact on its cost to produce. While digital presses run between 30 - 50 feet per minute (fpm), the Flexographic presses are running between 300 - 400 fpm. A faster process means a lower per label cost to you, which is important with your medium to large volume orders. Much like a car runs faster than say a go-cart. Both are awesome forms of transportation, but each have their specific role. Enough about go-carts, let's talk about what's really important. You and your label needs.
You want and deserve a High Quality Custom Label, right?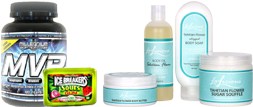 Printing technology is constantly evolving. Well, it made a huge leap when digital plate making became available. Not only will your custom labels be printed with digital plate technology, they will be printed with High Definition plate technology. This will allow us to provide you with incredible 4-color process image duplications and screened images that can fade down to 1%. Now were running up there with the quality of Digital printing. Sweet, huh? If you don't believe us, just ask for a Sample Kit.
You have the largest variety of available options, with Flexographic Printing
By the nature of the process, Flexographic printing has the largest variety of printing options and capabilities. There are more materials available, more ink colors, more label constructions possible. If you need to print up to 12 colors, we have you covered. If you need a coupon or fold-out booklet label, we have you covered. If you need a blank shipping label or a beautiful full color custom label, we have you covered. If you need, well almost anything... you get the picture. We have listed a good number of the capabilities and products that we provide down below, for you.
Enjoy some of the fastest deliveries in the printing industry

We're not here to brag how great we are with our turn-around times. But we are smoking the most of the competition. When your deadlines are tight and you need your order of labels quickly, we can take care of you. The beauty of the digital pre-press and the teams refined and lean printing process, and don't forget our Super-Elves, we consistently knock days if not a week off of the typical label order lead-time. We like seeing you happy, and this definitely helps.
Let's get you started
I think what we are trying to tell you is that Passion Labels and Packaging, Inc. will consistently deliver for you, a higher quality label, and because we are so nice and love what we do, you will have amazing service to go along with it. Guaranteed!